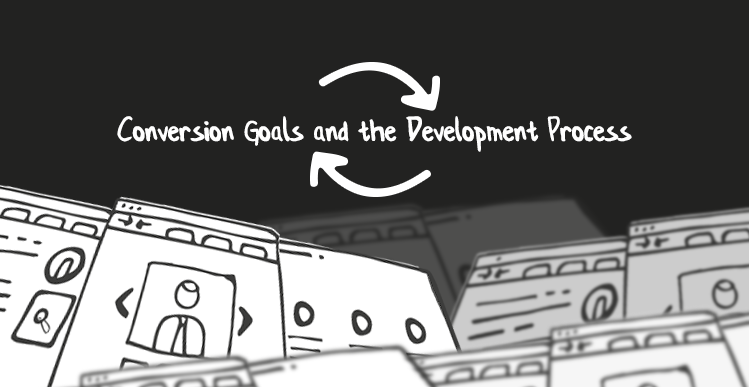 Conversion optimization is a theme that all too often comes up too late in web development. Many people realize that a website they spent thousands of dollars on is not bringing them the business results they wanted. So they talk to a conversion optimization specialist about making their website more powerful. That is when the truth comes out: the client does not have clear conversion goals.
There are a lot of ways to increase website conversions without a clear conversion goal. Of these 131 conversion tips, several of them can be effectively implemented without understanding the vision of your website. For example, decreasing the loading time of your website will help any website get more conversions. But the bulk of these conversion secrets depend on thoroughly understanding the concept of conversions and having a detailed vision for your website.
Defining Conversion
Conversions are simply instances when a user takes an action that you want them to take. For example, making a purchase is one of the most basic conversion goals. Signing up for newsletters or engaging in a live chat are other common goals.
However, depending on your type of site, your conversion goals can get more complicated. They may include the average time a user spends on your site or the funneling process a user uses to get to a purchase page.
It is a good idea to familiarize yourself with these more complicated conversion goals. They will allow you to fully understand the power of a website. For most businesses and organizations, a website is about much more than making sales. It is about brand awareness and developing a relationship of trust with users. You can find ways to measure brand loyalty and the effectiveness of various website features through conversion goals.
Defining conversions helps you answer the most basic question, "Why are we building a website?" Your answer should be more in-depth than, "Everyone needs a website."
Conversion Goals In the Design Process
Your conversion goals should be one of the first things you discuss with your designer. Your conversion goals will help your designer narrow down your web audience. Only then can they create a look and flow that will lead to the fulfillment of your goals.
If your conversion goals are vague, then it is most likely that your target audience is also somewhat vague. This leads to generic designs that are meant to appeal to a broad base of people. While these designs may be appealing, they usually say very little to your target audience. On the other hand, specific goals will allow your designer to add features to strengthen your relationship with your users. This will ultimately increase your conversions.
Your conversion goals can affect every aspect of your design, including the color scheme, how much white space is used, what is visible above the fold, and what your header looks like. A good designer will be able to relate most aspects of their design directly back to your conversion goals.
Conversion Goals In the Development Process
Your conversion goals will also determine which plugins are best for your site, which areas you will need more in-depth development, and which features you will need to add to your site. Throughout the development process, you should continue to ask yourself if the site you are receiving matches your vision for the main purpose of the site.
Tracking and Measuring Conversions
It is easy to track conversion rates these days. Google analytics has a great conversion tracker that will allow you to set and measure your specific goals. This should be set up from the beginning and you should check it regularly to see whether your conversions are increasing or decreasing. Increasing means you are going in the right direction. Decreasing usually means that you need to consider conversion optimization methods or change the content you are adding to your site. However, if you designed your site with your main conversion goals in mind, these tweaks should be minor.
Using Feedback to Keep Your Site Fresh
You should think of your conversion rates as a constant conversation with your users. They will ebb and flow. It is impossible to obtain an optimum conversion status and then assume that your rate will stay the same. This is why it is important to have an ongoing relationship with your developer and/or a conversion specialist who can help you continue to make your site the most interesting and useful site it can be.