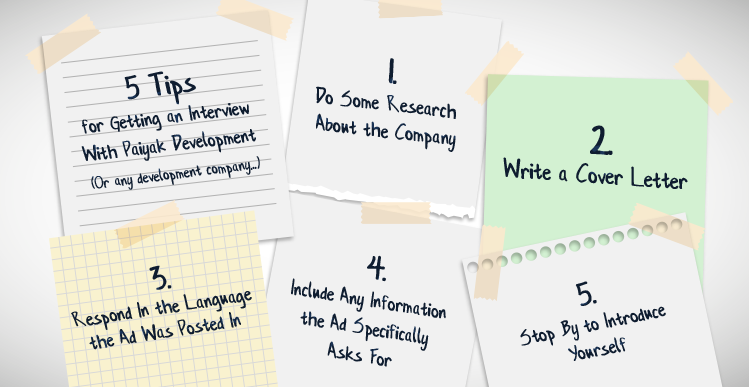 5 Tips for Getting an Interview With Paiyak Development
Paiyak Development just closed our second round of intern hiring. We had quite a few qualified candidates that we would enjoy working with. Unfortunately, we also had quite a few applicants who might have been qualified but never got invited to an interview with us.
Nikola and I purposefully selected Gabrovo to start our company because, although it is a small town, it features a technical high school and technical university. We love the idea of giving a chance to young people who do not have any work experience and it is our hope to continue creating job opportunities in Gabrovo for many years. As our company grows, we want to expand our internship program and offer high-quality training as well as permanent placements within our company. However, the downside to working with young, inexperienced people is that they also might not have a lot of experience applying for jobs.
I wanted to take the time to give some advice to anyone who might be thinking about applying with Paiyak Development (or any web development company) in the future, because I would love to see your potential shine through your application so we can invite you to an interview.
Do Some Research About the Company
If you find a company that you want to work with, do some simple research about the company. I am not talking about hours of investigation, but you should visit their website, read a bit of their blog, and check out their social media profiles. This not only lets you determine if it is a company you really want to work with, but it also lets you know what type of language you should use in your cover letter and can give you an idea of what the company is looking for.
For example, from our website, you would learn that our company is very casual and that you do not have to be overly formal with us. You would also learn that we focus on custom WordPress solutions and that we have a small but dedicated team.
Write a Cover Letter
Around a quarter of the CVs that we received over the past year did not come with a cover letter. By this I mean the CV did not have any sort of email or statement informing me why it was in my inbox or why the person choose to submit it in response to our advertisement. Honestly, I rarely even open these CVs. If the person did not even take the time to say hello and introduce their CV in an email or cover letter, then why should I waste my time guessing what they want?
Another quarter of the CVs that we received had a brief cover letter. I am being generous when I call this a cover letter as it was generally a single sentence saying, "I am sending my CV because I want to work with you." Well, at least I knew why I was looking at the CV, so I would at least open it, but the CV would have to be amazing for me to send a follow-up email.
To get noticed, you need to include a cover letter. If you are unsure of how to write a cover letter or what information to include, there are plenty of tutorials online. But basically, a cover letter should show that you know a little bit about our company and let us know why you are interested in our opening, specifically.
Respond In the Language the Ad Was Posted In
This is not mandatory, but it does get our attention. We are an English-speaking company and we work solely with English-speaking clients. If you do not speak English, then we will be unable to put you on project work as we believe in direct interaction between programmers and our clients. Seeing that our website is only in English and that the ad was posted in English, it is helpful if you take a risk and write your cover letter in English.
That being said, we do encourage employees to increase their language skills through private courses and not having perfect English will not keep you from getting hired with us.
Include Any Information the Ad Specifically Asks For
In our ads, we always post a few questions and ask you to answer them in your cover letter. They are generally easy questions about yourself and your interest in the position. We have those questions there to determine whether you can read and follow instructions.
Very few people actually include the answers in their cover letter and (I'll tell you a secret here) every one of them gets invited to some form of an interview. Because that is what we are looking for- someone who can follow instructions and work with us.
Basically, any time an ad asks specific questions, your cover letter should be extremely easy to write. Simply introduce yourself and answer the questions.
Stop By to Introduce Yourself
Finally, if you really want to make an impression, you can stop by and deliver your CV in person. We love meeting people face-to-face and it makes you much more memorable. If you are unable to stop by, then send a follow-up email to make sure we received your CV and your cover letter and express your interest in our company.
Like any company, we are looking for employees who fit our group dynamic. We want to work with people who are interested in our company and who are excited about web development. The only way we can see that is if you show us.